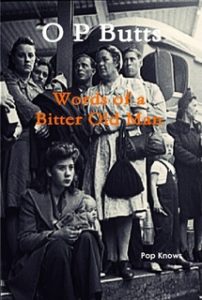 O P Butts
Words of a Bitter Old Man
by
Pop Knows
Cigarette smoking! Sexual freedom! Racial suppression! Unpleasant, and sometimes deadly, consequences are ignited when making one's personal lifestyle choices for yourself – and others. But who decides when a danger exist, or when the preference merely exposes one to a set of unfortunate consequences? Today, do we still have the right to chose? Or does a political correct society make the decisions for us by steering public perception and acceptability on activities associated with individual lifestyle choices. One man's passion is another man's poison. One man's concern is another man's ignorance. O P Butts examines the question of individual lifestyle preferences through the conflicting lives of four diverse middle age men. Working in the confines of a failing manufacturing facility (the A. L. Wright Screw Products Company) situated on prime Mississippi River frontage in Memphis, TN, a perceived bigot – haunted by one tragic mistake in his past, a delusional simpleton – in denial over his mother's passing, a defeated African American – yearning to grasp hold of the elusive American Dream, and a reformist homosexual – motived by his own self-preservation embrace – yet aggravate, one another as they go about their daily routines. Through manipulation, domination, and anticipation, these four men struggle against one another to maintain or reshape their personal vision that great entitlement – life, liberty, and the pursuit of happiness.
Now 25% discount on your purchase of 
Words of a Bitter Old Man
Or shop online at Amazon or Barnes and Noble
Download the eBook version of O P Butts – Words of a Bitter Old Man at: KK and Pop's Place.  Or on iTunes, Barnes Noble Nook Books, Kobo, Google Play, and Amazon.  Check these outlets for your preferred version. But whichever way you choose – enjoy!